Bloomberg - Oshrat Carmiel - 09 December 2016
Manhattan apartment landlords are offering potential tenants more perks to avoid cutting rents further in a softening market.
Incentives, such as a month's free rent or payment of broker fees, were given on 25 percent of new leases last month, up from 14 percent a year earlier, according to a report Thursday by appraiser Miller Samuel Inc. and brokerage Douglas Elliman Real Estate. It was the biggest share for any month since the firms began tracking the data six years ago, topping the record of 24 percent set in October. Landlords also gave discounts averaging 3.8 percent off their asking rents, compared with 3.2 percent in November 2015.
"The effort to keep the appearance of rents being at a higher level than they actually are is taking more and more work," Jonathan Miller, president of Miller Samuel, said in an interview. "The public face of the rental market is different than what's under the hood."
Move-in sweeteners are propping up asking rents while also helping landlords attract tenants in a Manhattan market that's swelling with listings from newly built apartment towers. Last month's median rent without concessions factored in was $3,350, or 0.3 percent less than a year earlier, Miller Samuel and Douglas Elliman said. With the value of incentives subtracted from the sticker price, the median was $3,264, or a decline of 1.6 percent.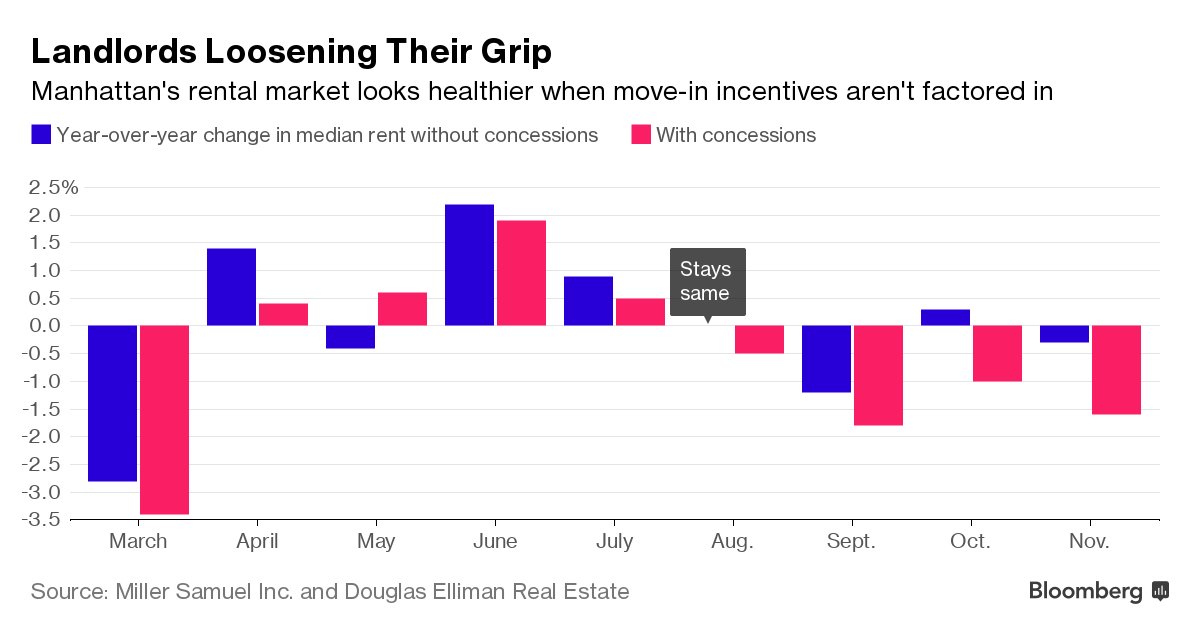 "This is not seasonality," Miller said, noting that November is among the slowest months for Manhattan leasing. "We've had this consistent trend for much of 2016, where landlord concessions every month have been significantly higher than the same period a year ago."
At the end of November, there were 7,283 rental apartments on the market in Manhattan, a 25 percent jump from a year earlier, according to the firms. The annual growth in listings has topped 20 percent every month this year since March.
The sea of choices is giving tenants the leverage to take their time and bargain. Manhattan apartments that found renters last month spent an average of 52 days on the market, compared with 45 days a year earlier. The number of newly signed leases jumped 29 percent, a sign that renters are finding better deals by moving than renewing their existing agreements, the firms said.
Vacancies Rise
That doesn't mean apartments are always getting filled. The borough's vacancy rate rose to 2.11 percent, the highest in more than seven years, according to a separate report Thursday by Citi Habitats. The brokerage reported that 27 percent of all deals it arranged last month came with a move-in incentive.
The rise in vacancies suggests incentives may not be enough of a lure for tenants, many of whom have reached a limit on what they can pay after five years of rent increases, said Gary Malin, president of Citi Habitats. Some renters who receive concessions worry that they won't be able to afford the monthly bill once the lease is up for renewal, he said.
"If the concessions are not getting you the desired results, then it tells you that the pricing is the problem," Malin said in an interview. "Then the question is: Who will and when will they start lowering face rents? Some owners are literally never going to do it. They'll hold onto their guns."
The pressure on landlords is likely to continue in 2017, when 5,698 new market-rate apartments will become available for lease in Manhattan, according to Citi Habitats. That's on top of the 4,879 units that were added this year.
Brooklyn, Queens
Landlord concessions also set a record in Brooklyn, which has had its own surge in apartment construction. Owners offered sweeteners on 15 percent of new leases in November, up from 6.6 percent a year earlier, Miller Samuel and Douglas Elliman said. The median rent without concessions slipped 1.3 percent to $2,780. With concessions, the median was $2,738, a 2.1 percent drop.
In northwest Queens, including the neighborhoods of Long Island City and Astoria, the median rent slipped 6.6 percent last month from a year earlier to $2,555, the firms said. Inventory in the area, directly across the East River from Manhattan and also home to a construction boom, jumped 46 percent to 616 apartments. Thirty-six percent of new leases signed in November were in new buildings.